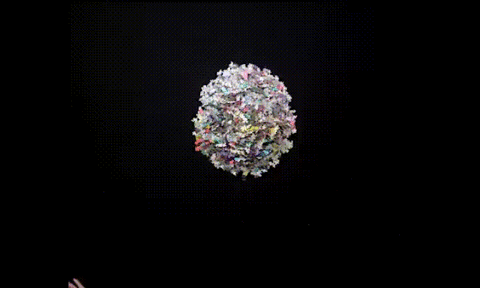 ​
​Welcome to the 4th issue of Fundraising Players. FP is about fundraising, writing, donors, life. I have a special PDF tip sheet for you today. (But hang tight, scrollers! I'll get to it soon.) I'm all smiles you're here. 😊​
​
Chicago, Tuesday, March 16, 2021
Hi ,
Do you sometimes feel like your fundraising appeal writing meanders... wanders... goes on tangent after tangent?
Maybe you keep typing, hoping something brilliant will magically appear on the screen?
(Been there.)
But, luckily, drafting a fundraising appeal is unlike other type of writing. We don't write them "top to bottom." Instead, we first lay the foundation with the most important parts. Then we build out the rest.
As legendary copywriter Eugene Schwartz said, "Copy is not written. Copy is assembled."
Another way to think of appeal writing is piecing together a jigsaw puzzle. 🧩🧩 When you focus on the most impactful elements first, the rest of the pieces come together easily.
That's good news if you don't love writing. (And it's great news if you hate writing!)
🎯 One element of your appeal that should be assembled first is the fundraising offer.
Why? Because the offer is twice as important as the copy. Fundraising guru Jeff Brooks says, "Great copy cannot save a weak offer."
Sure, you need good writing, but the offer—what you ask the donor to do—is doubly important. If you have a strong offer that speaks to your donors' motivations, your appeal will raise more money.
Here's the breakdown for successful direct-response communications, based on decades of research:
​FREE Guide! I'm sharing a PDF tip sheet with you. I created it this week to help you construct an irresistible offer. Keep this sheet handy for when you write your next appeal letter or email.
---
On Friday, I chatted with a wonderful ED from a Chicago area nonprofit. This organization has been fighting hunger in its community for 40 years. I've been working with the ED and her team for the last 2 years to increase their individual giving revenue.
On this phone call, she provided me with their final fundraising numbers for the last 12 months.
Despite the Covid-19 pandemic, last year they had a 47% increase. 🤩 The previous year (the first year we started working together), the increase was 62%. Pretty incredible results, right?
So, what made the difference for them?
Two major shifts happened that contributed to the organization more than doubling its fundraising revenue:
The team experienced a mindset shift. Before, they were reluctant to ask donors often, feeling like they were bothering them. So they'd let donors "rest" for long periods of time.
​
But when the team set aside their biases and recognized that DONORS LOVE TO GIVE💞... and when they put a system in place of asking, thanking, and reporting...everything changed.
​

The other major shift was when they learned how to construct a strong, irresistible fundraising offer. I worked with the team to make sure the offer reflected donors' values. Now, they use that offer—and versions of it— over and over and over again. A great offer is an amazing renewable resource!
I have no way of knowing if you can more than double your fundraising revenue in 2 years. That's a tall order. But I do know that understanding donors' motivation is essential. And constructing an offer around that will undoubtedly give your fundraising a boost! 🚀
​Again, here's that tip sheet on creating an irresistible fundraising offer.
---
THE FORMULA
A fundraising offer is what you ask the donor to do. The two elements that make up the offer are the problem and the proposition. I'll break it down for you:
​
1.) PROBLEM—Show the donor a focused, urgent, and solvable problem and affirm that they are the solution.
✅ Focused: The problem you present should focus the donor's attention on helping one person, place, or thing.
✅ Urgent: Create urgency by clearly stating why the donor should make a gift now. Be sure to set a deadline.
✅ Solvable: Present a human-size, winnable problem. The donor must see that their gift will make a meaningful difference.
​
2.) PROPOSITION—Call the donor to action. Be specific, describe the forthcoming impact, and show that the offer is a good value to the donor.
✅ Specific: Use concrete language to make it easy for the donor to visualize how their gift will help solve the problem.
✅ Impact: Focus on outcomes and paint a picture of what the gift will make possible.
✅ Good Value: What you ask the donor to give should sound like a good deal for the money.
If you're looking for examples and more help on how to create compelling offers, download "Your Fundraising Appeal Writing Starter Kit." It's a free guide on my website's homepage.
---
FANFARE: STUFF WORTH SHARING
▶️ How to Write the Perfect Donor Thank You Letter. 💜 Rachel Muir wrote a super-helpful blog post for Bloomerang. You work hard to bring in new donors, right? Learn from Rachel how to keep these wonderful supporters with a great thank you letter. There's even a link at the bottom where you can download Pamela Grow's thank you letter template!
​
▶️ How Valuing Your Donors' Identities, Feelings and Emotions Build Loyalty, with Francesco Ambrogetti on the Build Good Podcast with Mike Duerksen. 🎙 Franki has decades of international fundraising experience with organizations like UNICEF. He talks about keeping the emotional flame alive after someone makes their first and second donation to your cause.
​
▶️ The 3 Audiences for All Fundraising — Ignore at Your Own Risk! 🚨 Does your fundraising suffer from "The Wrong Audience Error"?? This awesome blog post from Jeff Brooks at Moceanic will help you see where the magic of fundraising happens!
---
DEPARTMENT OF HEARTSTRINGS
▶️ Grab some tissues. 🤧 Here's a wonderful digital fundraising case study on SOFII featuring Sumatran Orangutan Society. You'll discover key characteristics of a successful digital fundraising campaign. The video that the organization created is brilliant. Give it a watch.
---
Thanks for all you do to make the world a better place, .
Stay safe and take care.
I'll be back in your inbox on March 30th.
All my best,
Julie
​
PS: If you haven't grabbed it yet, here's my tip sheet on creating an irresistible fundraising offer. 🔥
​
PPS: Did someone forward you this newsletter? Get your complimentary subscription here. I send a fresh letter filled with good, practical stuff every other week.
​
​