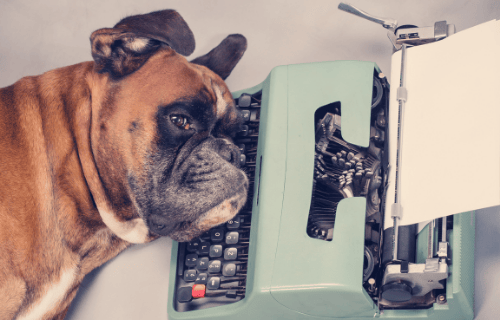 Welcome to the 14th issue of the newsletter all about your donor communications. I'm happy you're here. 😎 In this issue, I'll share what to consider before writing an appeal. I'll also show you where you can download my planning template.
---
Did someone forward you this email? Yay! Get your own free subscription here.
---
Chicago, Wednesday, August 4, 2021
​
Hi ,
Earlier this summer, I was given a project to write a content piece. The wonderful nonprofit client usually provides a full-page creative brief. Essentially, the brief is the plan for the project.
This time, though, I didn't get any such plan. The client's attention was focused on another important project.
All I received was a single resource and an internal note that stated, "Julie will know what to do." 🙄
While I appreciate the confidence, having no plan is less than ideal. ((Sometimes I need a crystal ball. 🔮 You too?))
But this was not a big project like a year-end campaign —and the client was unavailable — so I moved ahead to meet the deadline.
You know where this is going, right? 😬
Yep! II turned in the draft a few days later and learned it wasn't written through the lens they had wanted.
Had they communicated this to me in the creative brief, I would have known. But alas, they had to backtrack and tell me the angle they envisioned.
Don't cry for me Argentina, but I had to do unnecessary revising of the piece.
Frustrations like this are entirely avoidable.
For small projects, the wasted time isn't really something to cry over. You fix it. You learn a lesson. You move on.
But for larger projects — like an appeal pack or donor newsletter — failing to communicate can have severe ramifications for everyone involved, like missing print/mail deadlines and creating hard feelings between colleagues. 😠😢
As we move into the time of year when year-end appeals are on our minds, I'd like to help you get started.
It all begins with a plan...
Planning Your Fundraising Appeal
There are heaps of reasons you need a written plan before putting pen to paper (or fingers to keyboard).
Planning your appeal:
Sets the direction and priorities

Gets everyone on the same page

Saves time in the long run

Simplifies decision-making

Creates a clear, more cohesive appeal
​
Things to Consider When Developing Your Appeal Plan
If you want to have an appeal planning template, you can find it on pages 4–7 of my Fundraising Appeal Starter Kit. It's a free PDF guide you can download now. (I've just revised it this week, so it's shiny and still has that new car smell! 🚗)
👇👇 Here are 15 Elements to Include in Your Plan:
1. Project Overview: List the components & channels of the appeal. E.g. 4-page direct mail letter, reply form, lift note, outer and reply envelopes, 5-email sequence, donation landing page, 10 Facebook & Instagram posts, thank you message.
2. Goals of the Appeal: Specifically, what are you trying to achieve? E.g., Overall revenue, # monthly gifts, improve retention rate by x%, # upgraded donors, # new donors.
3. Prior Results: List prior results of a similar appeal to have a frame of reference.
4. Deadline Dates & Responsibilities: List who will do what and when? E.g., writing, interviewing, designing, providing images, reviewing, approving, printing, mailing.
5. Audience: Describe a member of your typical audience. What is their background (demographics and psychographics)? Also, how familiar is the audience with your cause and work?
6. Segmenting: What segments will you use, and how will you vary them and add personalization for each? E.g. monthly donors, majors, LYBUNT, SYBUNT, interests, annual, prospects. Personalize salutation, vary paras, etc., etc.
7. Style Guide: Do you have a writing and design guide to provide to those involved in creating and reviewing the appeal? If not, be sure to communicate any desired style, voice, tone, and formatting.
8. Define the Problem: What is the human-size problem that the donor can solve with a gift?
9. What Makes the Problem Urgent: Why should the donor give now? E.g. matching gift offer, program launch, year-end.
10. Define the Offer: What will happen when a donor gives a gift? Your offer should be specific, show impact, be expressed with a cost, and is a good value.
11. What the Donor's Gift Makes Possible: Think "big picture" now. What is the good that unleashes into the community/world when your donor makes a gift? Likewise, what are the negative consequences of not raising the funds?
12. Describe the Story of Need: What is the basic story you will tell? Do you already have a story written somewhere or do you need to arrange to obtain one? How?
13. Benefits to the Donor for Giving: List any benefits —real or intangible—the donor receives for giving, including any lift notes. E.g. address labels, membership card, bounce-back piece.
14. Resources: List (and link to) the resources the team needs to complete the appeal.
15. Other Considerations: What else is required (that may be unique to your organization) to complete this project?
---
You can grab my appeal planning template. It's free! 🤩 Find it on pages 4 to 7 of my recently-updated Fundraising Appeal Starter Kit.👇👇
---
​
Recent Fundraising Content Worth a Read 👀 or Listen 🎧
​
🎯 "Philanthropy belongs to everybody." This is my favorite quote from T. Clay Buck (CFRE and AFP Master Trainer) in an episode of The Intersection podcast. In just 60 minutes, Clay and the hosts (Kimberley MacKenzie and Paul Nazareth) cover a wide-range of topics including democratizing philanthropy, engaging the right people, storytelling, and crappy bosses.🤡 Give it a listen!
​
🎯 The Best Nonprofit Resources! Fundraising expert, author, and trainer (and amazing human!) Pamela Grow released a list of the best nonprofit resources. From blogs and newsletters to webinars and podcasts, this list is filled with fundraising gold.🥇 (I'm thrilled and humbled that the newsletter you're reading now made the list!)
​
🎯 The Agitator Nails it. The number of American households giving to charities is dwindling — now at the lowest levels in two decades. 📉 Roger Craver in The Vanishing American Donor suggests reasons for the decline. He also gives guidance to turn this sad reality around. Find out the four key areas he points to — and why he's dissuading nonprofits from becoming overly reliant on major gifts.
---
Thanks for being here !
I'll be back in a couple of weeks to continue to talk about your fundraising appeals.
If you know someone who would benefit from this newsletter, please forward this email or send them this page. 🥰
All my best,
Julie
Julie Cooper
Fundraising Copywriter
​FundraisingWriting.com​
​
​
PS: 🚨 What challenges do you run into when writing your year-end appeal? Where do you get stuck or face roadblocks? Hit "reply" and let me know. As you inch closer to writing your year-end appeal, I'm looking to address your peskiest problems in this newsletter.
PPS: 🛎️ You can download helpful (and free) PDF guides to improve your donor communications. Go to my homepage for immediate access to them.
​
---
Wondering why you received this email? 🤔 Because you opted in on my website, fundraisingwriting.com. Thank you ! 🙌 Don't want to hear from me again? Just click below.