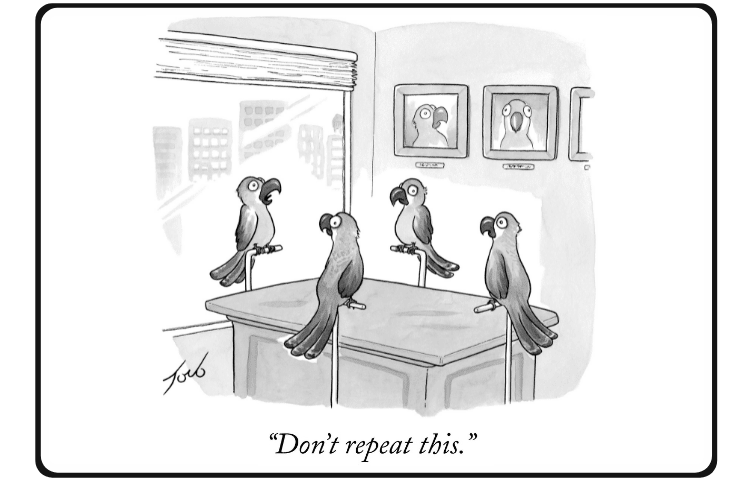 🎉 Welcome to the 15th issue of the newsletter, all about your donor communications. I'm happy you're here !
In this issue, I'm digging into the power of repetition in your fundraising appeals. I'll share why repetition works and real-world examples to give you inspiration for your next campaign.
PLUS: I'll link to a couple of incredible training videos from last week — one on DEI & your database... and the other on philanthropic psychology. AND: A way to show the need for spending money on fundraising.
---
Did someone forward you this email? Well, hot dog! 🙌 But you should get your own free subscription here.
---
Chicago: Wednesday, August 18, 2021
​
Hi ,
"Again! Again! Again!"
If you've spent any time around young children, you've probably heard them shouting for a repeat of something new they've experienced — like listening to a new song, hearing a funny sound, or tasting something sweet.
When my sons were little, they liked to listen to the same stories at bedtime, eat the same foods for breakfast, and watch the SAME videos every day.
"No, honey. I have absolutely nooooo idea where the "Sing Yourself Silly" DVD went."
​
We grown-ups like doing things over and over again too. Like when I rewatched the first three seasons of The Handmaid's Tale just a couple of weeks after watching the SAME three seasons.😬
We love repetition, and it's all around us. Here are a few more examples:
In School: The algebra teacher introduces a concept to the students and then assigns a list of similar equations.
​
In Advertising: The same TV commercial repeatedly plays during your favorite show. (Annoying, right, ?)
​
In Music: The Beatles hit single "Hey Jude" repeats the refrain "Na na na nananana, nannana, hey Jude" for more than four minutes. (FOUR!😮)
We learn and experience the world better through repetition. While I'm not an expert on brain science by any stretch, I do know that repetition builds paths in our brains. And once we have been down the same path a few times, we find that place quicker next time.
Applying Repetition to Our Donor Communications
When I review appeals, I often have to dig deep to determine what the nonprofit asks the donor to fund.
Messages delivered only once or twice don't always hit the intended target, which leads to confusion. As the saying goes, a confused mind always says "no."
We need to use repetition to help make our messages "stick" and to influence behavior.
But how?
Copywriting legend Dan Kennedy calls it "Internal Repetition." I love how he explains it:
"Tell 'em what you're going to tell them; tell 'em again; tell 'em again, a little differently; tell 'em again, a little more differently; then tell 'em what you've told 'em."
Yes, it's a lot of telling. But remember, we humans need to receive the same messages over and over again to earn permanent residency in our brains. 🧠
It's just kinda how we roll.
---
Next up: I'm going to show you some ways repetition can improve your fundraising. Then, I'll give examples of different kinds of repetition seen in recent fundraising appeals.
Sound good? Let's go!
​
What Repetition Does for Your Fundraising (And Ways to Use It)
Repetition Ensures the Donor Doesn't Miss the Fundraising Offer
The primary purpose of your appeal is to present the fundraising offer to the donor. The fundraising offer is the thing that will happen once a donor makes a gift.
So, you need to make sure the donor knows exactly what you are asking them to do.
And you need to do this frequently throughout your appeal.
But why?
Just as you have been scrolling quickly through this newsletter (Am I right or am I right?!🤣), your donors are scanning your fundraising messages too.
The research is clear that people rarely read fundraising letters from beginning to end. Instead, they are skimming and skipping around.
Our brains are wired to sift and sort through messages all day long to figure out which are worthy of our time and which can be ignored.
So, we need to be intentional about repeating what we want donors to know to take immediate action.
We have mere seconds to make that message understood.
🦜 EXAMPLE #1
Look at the image below of a recent Save the Children appeal. Every time they wrote about the match offer, I put a box around it.
What are the chances a donor will miss that their gift will be doubled? My guess is... slim to none! Wherever someone's eyes go, they will undoubtedly see the match offer.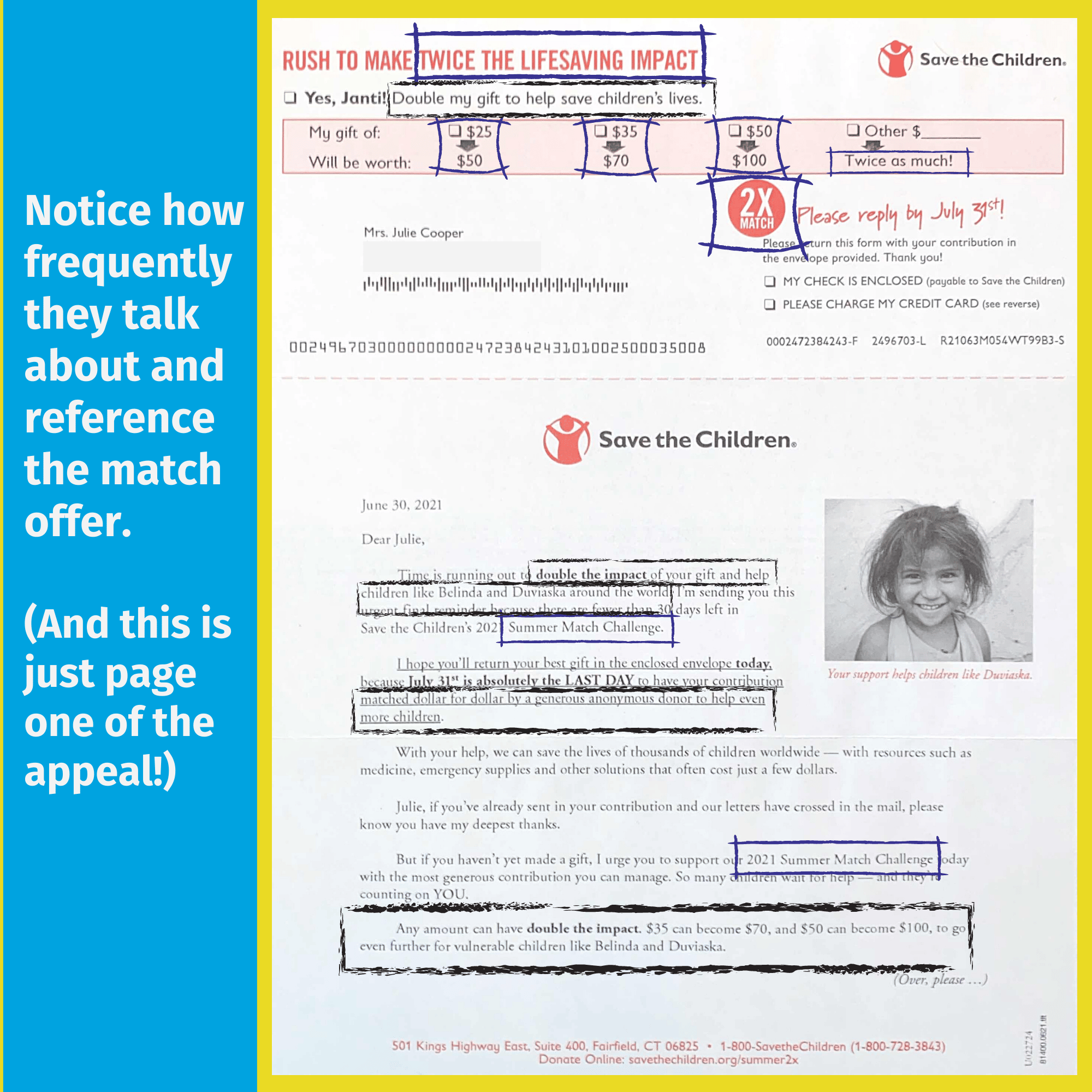 ​
🦜 EXAMPLE #2
This is an excerpt of an appeal from National Jewish Health. See how they use the phrase "your gift will go twice as far" to show the outcome of a donor's forthcoming gift.
Also, notice the use of underlining and indenting so that our eyes are drawn immediately to the fundraising offer.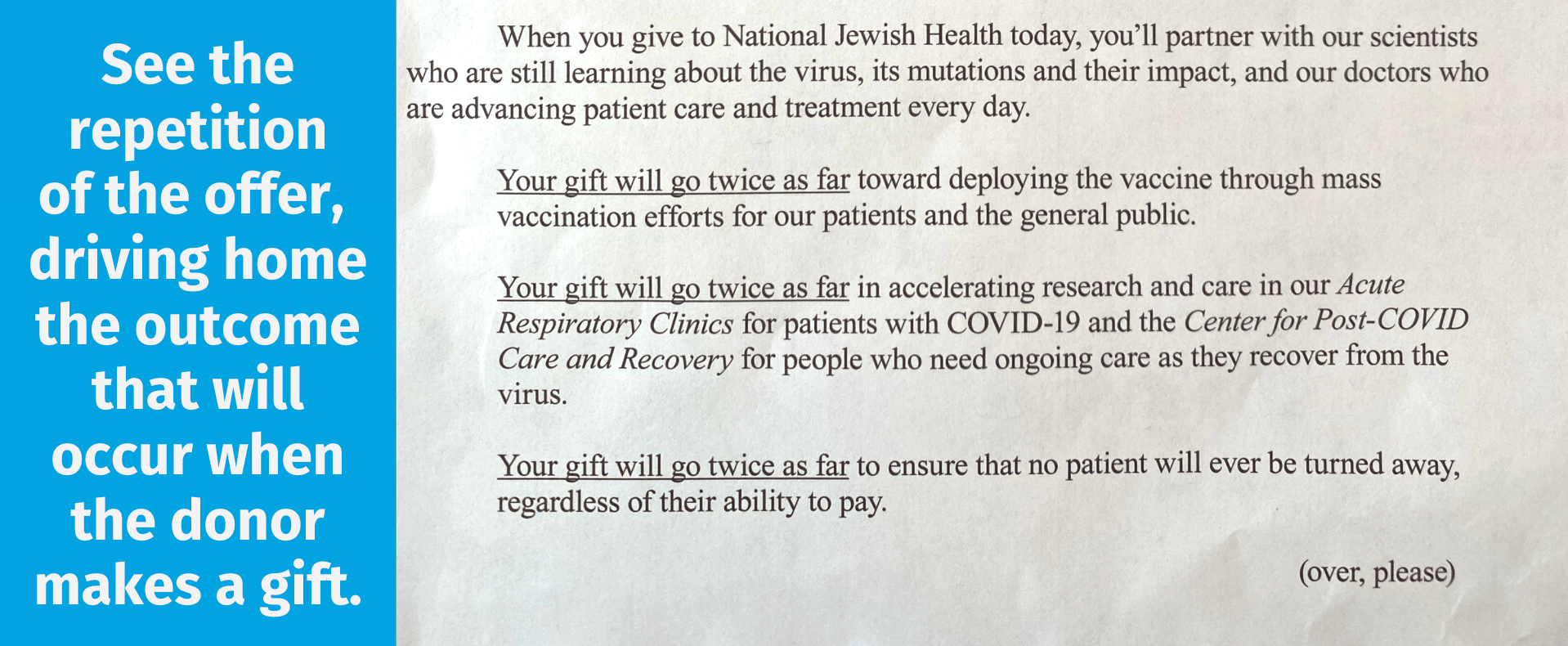 ---
Repetition Heightens the Emotion of Your Fundraising Appeal
Repetition in your fundraising communications can be used effectively to stir the emotions of the donor.
Check out these two examples, :
🦜 EXAMPLE #1
The following passage uses repetition at the end of a fundraising email. I wrote it for Orbis International, and I intended to build to a crescendo by repeating the word "today" and pairing each line with aspirations and/or outcomes.
Today, if you are able, we call on you to be a hero.
​

Today, we ask that you stand strong with eye care professionals who work tirelessly to save sight.
​

Today, we ask you to
make a special donation to people at risk of living in blindness and isolation without immediate help during the pandemic
.
​
🦜 EXAMPLE #2
The following excerpt is from a recent Care appeal. They use repetition to introduce the story of need and elevate the severity and urgency of the problem.
---
Repetition Keeps the Donor Engaged and Feeling a Part of Your Community
Whenever I'm in a crowd (which is pretty much non-existent these days), I instinctively turn my head when I hear someone say, "Julie, Jules, Jul, Mom, or Coop."
My name, or a version of it, is magical to me.
It's the same for you too.
Research shows that hearing your name causes a chemical reaction inside your brain. Feel-good hormones—like dopamine and serotonin—get released into your brain when you hear your name.
This rush of excitement makes you feel happy. But, it also sends signals such as empathy and compassion to your unconscious mind. (And those are two emotional triggers we want to evoke in our appeals!)
Likewise, using the pronoun "you" helps convey that you're speaking directly to them about things they care about.
So, freely repeat "you" and "your" throughout your appeal. You'll sound more human while keeping the donor engaged and feeling a part of your community!
​
🦜 EXAMPLE
This short appeal from Susan G. Komen accompanied a supporter newsletter. It's engaging because they are talking to the donor about their impact — and framing it in the context of the wider community.
I've circled phrases of the impact that use my name, the word "you," and references that I'm a part of the community of supporters.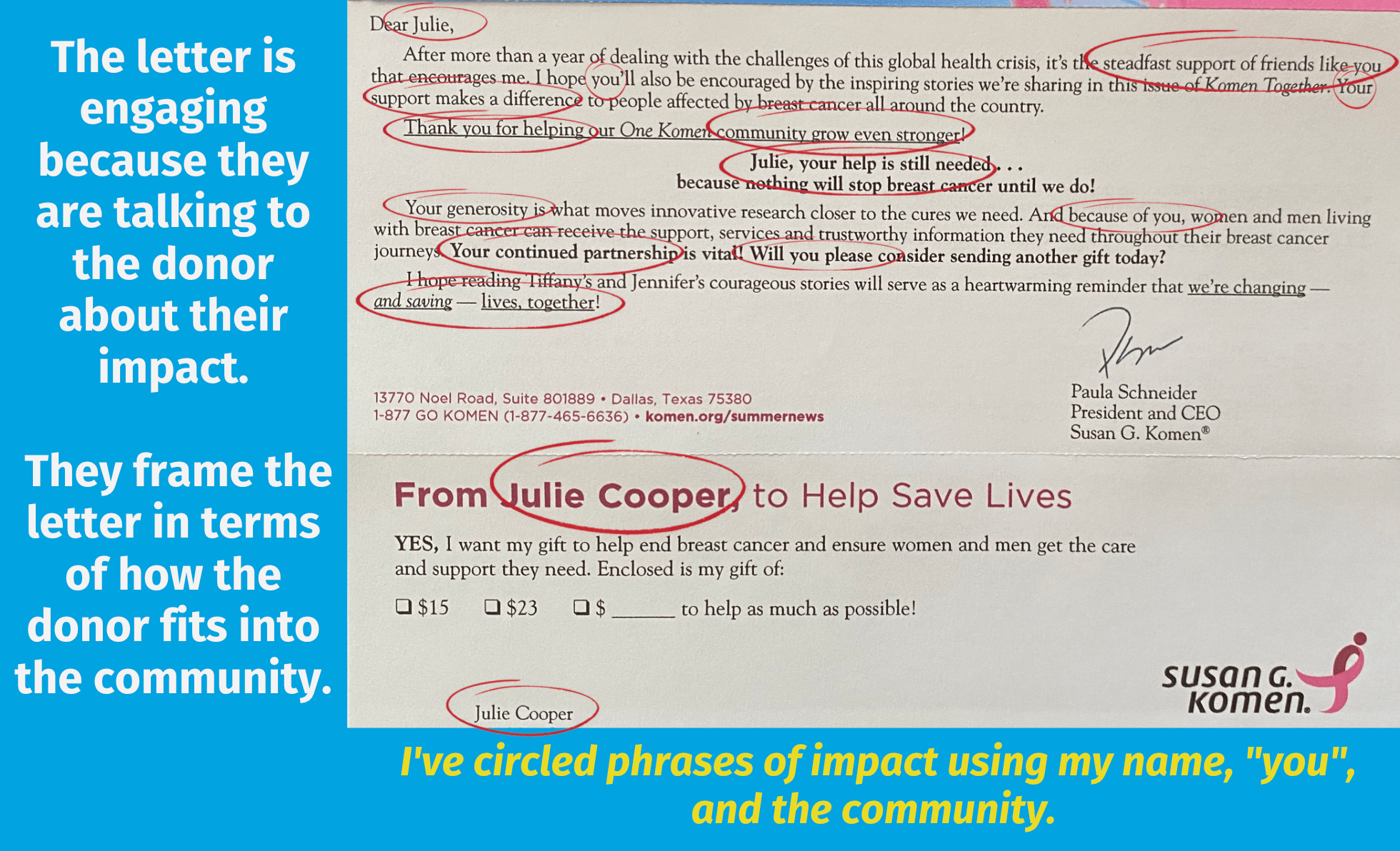 ---
​
Key Take-Aways
We learn and experience the world better through repetition

.

Repetition builds paths in our brains. Once we have been down the same path a few times, we find that place quicker next time.
​

We should apply repetition to our donor communications

.

Repetition makes our messages "stick" and helps influence behavior.
​
Repetition ensures the donor doesn't miss the fundraising offer.

Our brains are wired to sift and sort through messages. So, we need to be intentional about repeating what we want the donor to know to take action.
​
Repetition heightens the emotion of our fundraising appeals. Repetition is effective in elevating the severity and urgency of the problem.
​
Repetition keeps the donor engaged and feeling a part of the community. Be sure to use the donor's name in your communications and freely use the pronoun "you." You'll sound more human while keeping the donor engaged and feeling a part of the community.💗
​
---
​
Recent (& Free) Webinar Replays
On the topics of:
- Diversity, Equity, and Inclusion (DEI)
- Philanthropic Psychology
▶️ [VIDEO] Donors ARE Data: How to Create Equity and Inclusion in Your Donor Data Practices - T. Clay Buck and Lindsay McCreary help us with best practices in data management to ensure we're building equity, inclusion, and representation in our databases. (Network for Good)
▶️ [VIDEO] How to Love Your Donors in a Philanthropic Psychology Way – Prof. Jen Shang, Ph.D., shows us how philanthropic psychology can be applied to nurture donors, develop donor identities, and achieve sustainable increases in giving. (Bloomerang)
Yes, I've watched both webinars and took notes. (Ah-mazing!!)
​
---
​
A Great Way To Show Donors the Need for Spending Money on Fundraising
Looking for a best practice on how to show donors the need for spending money on fundraising? Emma M from Macular Society posted a response to a tweet from Dan Pallotta. Check out the page in their impact report. 🤩
---
​
A Little Inspiration
My friend T. Clay Buck showed this quote in a recent webinar (the DEI one I recommended above). It's an excerpt from the poem Please Call Me by My True Names by Thich Nhat Hanh, a Vietnamese Buddhist monk and peace activist.
Thich Nhat Hanh calls us to look at each other and recognize ourselves in each other. This is the way to opening hearts.
Donors want to be seen as a part of your mission. How are you recognizing their identities and helping them to feel connected to you?💛
​
---
​
Thanks for being here, . I'll be back in two weeks to talk more about your donor communications.
If you know someone who'd enjoy this free newsletter, please forward this email or send them this page.
All my best,
Julie
Julie Cooper
Fundraising Copywriter
​FundraisingWriting.com​
​
​
PS: What challenges are you running into when writing your year-end appeal? Hit "reply" and let me know. As we head into the craziness of year-end fundraising, I'll be addressing your peskiest appeal-writing conundrums in this newsletter.
---
Wondering why you received this email? 🤔 Because you opted in on my website, fundraisingwriting.com. Thank you ! 🙌 Don't want to hear from me again? Just click below.